WattAnyWhere, a rapidly expanding startup in the clean energy sector, is delighted to announce its acceptance into the prestigious 3DEXPERIENCE Lab from Dassault Systèmes. This collaboration gives WattAnyWhere access to a suite of innovative software to support the development of their clean bioenergy fuel cell system.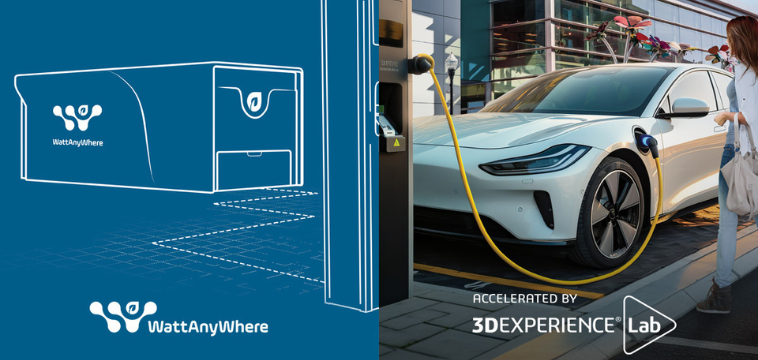 Through extensive research and development, WattAnyWhere has successfully identified the first use case of their innovativetechnology in the transportation sector, specifically in boosting e-mobility. The highly efficient and scalable fuel cell technology can be easily installed off-grid within a month, making it an ideal solution for sustainable transportation.
By combining advancements in renewable energy with the rising trend of electric vehicles, WattAnyWhere is paving the way for a sustainable and eco-friendly transportation system. Their clean energy solution offers a game-changing alternative to fossil-fuel-based vehicles, significantly reducing carbon emissions and air pollution.
At WattAnyWhere, they believe in harnessing the power of renewable energy to create a brighter and more sustainable futurefor businesses and their customers. By adopting the off-grid WattAnyWhere generators, businesses can take control of their energy consumption and reduce
their carbon footprint. This not only helps combat climate change but also
reduces dependency on fossil fuels, resulting in cleaner air and a healthier
environment for everyone.
In addition to promoting sustainability, WattAnyWhere's project also focuses on energy independence and resilience. With their innovative technology, businesses and individuals can generate their own electricity, reducing reliance on centralized power grids. This not only provides financial savings but also fosters a sense of empowerment and self-sufficiency, especially in remote areas.
As part of their commitment to accelerate the world's transition to
clean energy by offering an innovative bioenergy fuel cell system, WattAnyWhere is excited to join the 3DEXPERIENCE Lab from Dassault Systèmes. Through this collaboration, WattAnyWhere has access to Dassault Systèmes' 3DEXPERIENCE platform and software solutions that support their end-to-end process, from customer requirements analysis to design, testing, and validation. These software programs help streamline their workflow, improve communication and collaboration, and enhance the design process. With access to these solutions, they are able to work more efficiently and effectively, ultimately delivering high-quality products to their customers. For example:
· Capturing customer requirements and seamlessly transforming them into design features, ensuring that WattAnyWhere meets their customers' specific needs while simplifying the design process.
· Project management to stay informed of project status, effortlessly track progress and milestones, and leverage data analytics for data-driven decision-making and adjustments.
· Efficient communication and successful collaboration, which connects all team members and partners involved in projects.
· Design environment facilitating the creation of virtual representations of their products, with a comprehensive database of Off the Shelf products, streamlining the design process by incorporating pre-existing components.
· Configuration management to introduce changes to their designs while maintaining strict control and ensuring all updates are effectively tracked and managed. This feature is vital in guaranteeing the accurate implementation of design revisions and providing a well-documented reference for future use.
As a fast-growing startup with a working prototype in the EPFL lab in
Sion, WattAnyWhere aims to pilot the generator in Switzerland and France, with plans to expand internationally. With the support of the 3DEXPERIENCE Lab from Dassault Systèmes, they gain access to cutting-edge management, design, and simulation applications and collaborate with experts to accelerate their development and foster collective intelligence.
About WattAnyWhere
WattAnyWhere is a Bioenergy startup with a vision to power the planet with clean, renewable energy that is accessible to anyone, anywhere, anytime. Their mission is to accelerate the world's transition to clean energy by offering an innovative fuel cell system that simplifies users' lives and powers their independence.