BIOENERGY - FAST. SCALABLE. RENEWABLE
300kW of clean electricity generator
" I'm speaking of the life of a man who knows that the world is not given by his fathers, but borrowed from his children"

Wendell Berry, "The Unforeseen Wilderness: An Essay on Kentucky's Red River Gorge
Global climate change is at a critical point of inflection, and radically progressive solutions are required to reduce our dependence on fossil fuels and subsequent greenhouse gas (GHG) emissions. GHG emissions are 50% higher than they were in 1990, which is unsustainable for our planet.  WattAnyWhere provides a ground-breaking, environmentally-friendly answer to this urgent global dilemma. We strive to help facilitate renewable energy becoming the #1 source of power for our children and our world.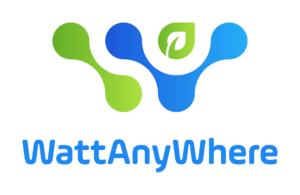 WattAnyWhere is transforming how high power electricity demand is delivered to anyone, anywhere – shifting from fossil to renewable, from centralized, high-cost infrastructure to de-centralized, adaptable, customer-centric solutions.
WattAnyWhere brings a breakthrough solution to electric vehicle charging point operators (CPOs), with a highly reliable, safe and innovative Fuel Cell system that delivers BioEnergy, i.e. electricity produced out of BioMass, to anyone, anywhere; BioEnergy that is clean, silent, cost-effective, free of pollutant and CO2 neutral.
CPOs benefit from high power generation with availability at even the most remote location, while greatly contributing to the health of our environment by reducing GHG emissions.
WattAnyWhere innovative design uses renewable ethanol to store energy for a high reliability, safety and cost effective solution.
BioEnergy with WattAnyWhere

FAST
High power electricity quickly set-up in even the most remote location.
SCALABLE
Modular approach to grow easily with your power demand.

RENEWABLE
Renewable ethanol for high energy density, easy storage and instant availability.
WattAnyWhere won the Special Jury Prize at The Chambre of Commerce and Industries France – Switzerland (CCIFS) 33rd Trade Trophies edition for its role in developing the use of renewable energy.