BIOENERGY - FAST. SCALABLE. RENEWABLE.
" I'm speaking of the life of a man who knows that the world is not given by his fathers, but borrowed from his children"

Wendell Berry, "The Unforeseen Wilderness: An Essay on Kentucky's Red River Gorge
Global climate is at a critical point of inflection, and radical changes are required urgently to stop using fossil fuels and reduce GHG emissions. The world needs breakthrough solutions to get all the energy that we need without the worrying about the environmental impact. We need to ensure that renewable energy becomes the #1 source of power for our children.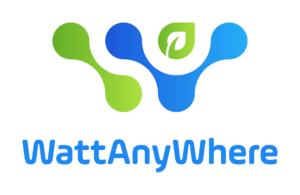 WattAnyWhere takes part in the transformation of how the most strigent, high power electricity demand is delivered to anyone, anywhere – shifting from fossil to renewable, from centralized high cost infrastructures to de-centralized, close to the customer and adaptable.
WattAnyWhere brings a breakthrough solution to electric vehicle charging point operators (CPOs), with a Fuel Cell system that delivers BioEnergy, i.e. electricity produced out of BioMass, to anyone, anywhere; BioEnergy that is clean, free of any pollutant, CO2 neutral and completely noiseless.
CPOs therefore benefit from high power generation at any location, with high availability and full respect of the environment, as well as contributing to the GHG emission reductions.
WattAnyWhere innovative design uses renewable ethanol to store energy for a high reliability, safety and cost effective solution.
BioEnergy with WattAnyWhere

FAST
High power electricity anywhere in less than a month
SCALABLE
Modular approach to grow easily with your power demand

RENEWABLE
Renewable ethanol for high energy density, easy storage and instant availability
WattAnyWhere got selected as one of the 23 leading swiss impact startups.